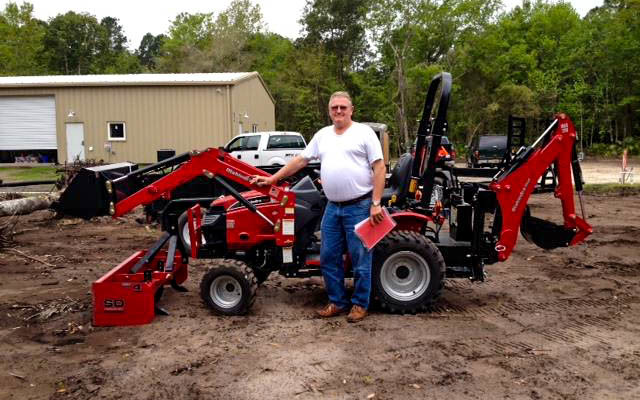 The team at Coastal Carolina Supply – your NEW ACE Hardeware in Hardeeville would like to thank Mr. Bransford for your business, wonderful testimonial of our service, and great story about the first experience with your new Mahindra tractor!
From Mr. Bransford:
Mr. Patterson delivered my tractor on Friday, and I want to thank both of you for the superb service Coastal Carolina Supply provided me in this major purchase.
You would have gotten a kick out of my tractor's first job–rescuing the two fellows who delivered a gun safe later yesterday. They saw a bay door open on my building, and instead of knocking on the door to find out where I wanted them to put it, drove directly toward that open door across a low, wet area with that 885 lb. safe on a two-wheel drop bed trailer behind their Econoline van. They turned perpendicular to the building to back up to the door and got stuck. I was so new to using the tractor I had to dig out my instruction manual to get it into all-wheel drive, but we got their van out pretty easily once they unhooked the trailer. The trailer was still stuck deep with that big safe on it. Once they dropped the trailer bed to ground level and used a pallet jack to roll the safe over sheets of plywood from the stuck trailer to the building, my little Max 25 and I lifted the trailer tongue with the loader bucket, hooked a couple of cables to it, raised the cargo platform off the ground, and dragged it to drier ground where they could hook it up to their van on the way out.
When I told them they would have a good story to tell when they got back, the driver sheepishly said they old probably just keep that story to themselves.
Thanks, again. I was in love with it as soon as it arrived.
Yours,
Wm. Bransford
So what's your story?
We want to know how you have used your new tractor from Coastal Carolina Supply – your neighborhood ACE Hardware in Hardeeville!
Give us a shout and we could feature your story on our companion websites!